It's not hyperbole to say that I had been looking forward to the Boston Marathon for at least 18 months–since I qualified at Richmond in November 2017. After months of anticipation and miles of training, it was finally here.
I arrived in Boston on Saturday afternoon after an electrical storm in the Carolinas delayed our flight by about 90 minutes. I got to my hotel not long after, though the hotel where I stayed was not the hotel that I booked. I had booked a hotel that had to cancel my reservation due to renovations and had been rebooked to another location, which was really nice if a decent hike to the race activities. Perhaps I should have guessed that two of these things not going as planned might be the universe's way of telling me that this might be a theme for the weekend. I didn't.
After checking into my hotel, I made my way to the expo. The closer I got to Back Bay, the more people I saw wearing Boston jackets and carrying expo bags. It was a little overwhelming. When I got to Boylston Street, the crowded had doubled. I saw the finish line. I saw the bleachers. And then I saw the line of people waiting to get into the convention center, where the expo was located. It was sunny and warm outside, and I decided that if I was going to have to wait for an hour to get into the expo, I needed water, so I detoured into the mall that was connected to the convention center. I also wondered if there might be a second entrance from mall. There was. So instead of waiting an hour, I waited maybe 10 minutes.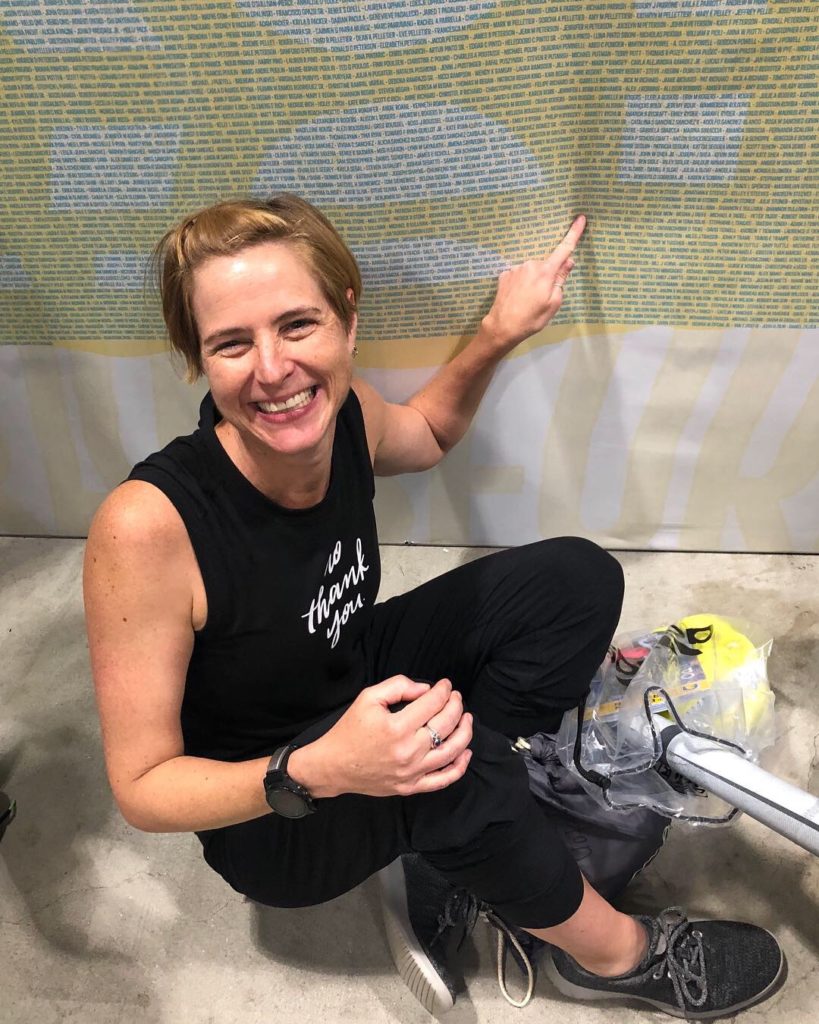 The expo was really well organized, but it was also really crowded. Packet pick-up was easy and I appreciated that there was a space designated to try on the race shirt to make sure that runners got the right size. I hadn't, so I also really appreciated being able to exchange on the spot. The rest of the expo, where various sponsors and vendors sample and sell everything from gels and Gus and energy bars to running shoes and gear and injury prevention tools like Normatec boots and TENS units. I got snagged by a guy selling TENS units, and before I knew it, I had electrodes on my shoulders, and I was sitting in a chair next to a complete stranger in the same position. I know a couple people who have these units back home, and they all really like them, so I was interested. I was more interested when I learned I could use my Flex Spending account. And then the sales guy threw in a pair of massage slippers. And then he offered us two for one. Somehow, I am now the owner of not one but two TENS units. After that, I left the expo because I couldn't afford to spend more money. But I have since used the TENS, and it's pretty awesome.
I stopped for dinner before heading back to my hotel room, and then I called it an early night.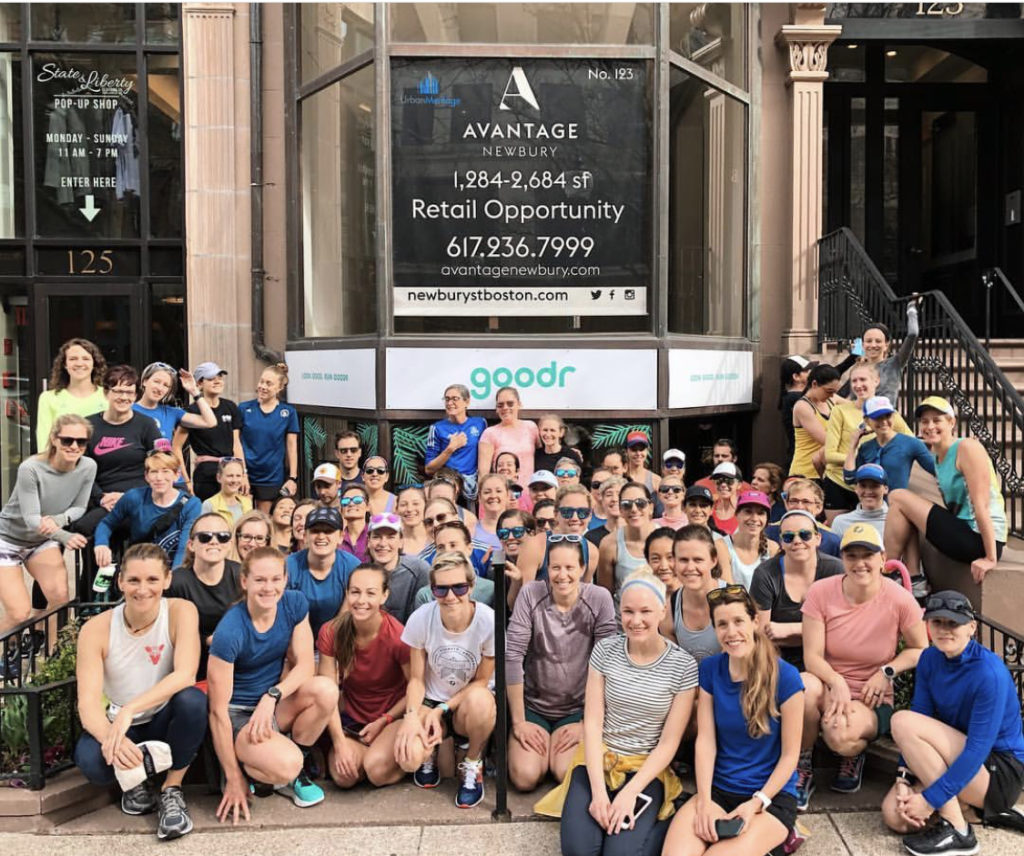 The next morning, there was a Oiselle meet-up at the Goodr pop-up store. It was so great to connect with friends. I had been feeling very anxious and unsteady since getting to Boston, mostly due to the taper but also because there are just so many runners around, all of them looking confident and wearing jackets or tee shirts from previous Boston marathons. The question of the weekend was not "are you running?" but "is this your first Boston?" I guess it's flattering because it suggests that I too looked like I could have done this before. . . and I had run other marathons before (Boston was the 5th), but even though I hit my qualifying time with a generous cushion, there was still a part of me that didn't feel like I belonged there, that I wasn't fast enough or fit enough or enough of a "real runner" to be at the start on Marathon Monday. The majority of my brain knows that those insecurities are bullshit. But thanks to taper crazies, that part had ceded territory to the fear.
All of this to say, it was really, really good to see my friends and spend time with people I know. I had a really good shake-out run with my teammates, enjoyed a (runner) celebrity sighting of Ryan and Sara Hall, and then wandered off to brunch with a couple of old friends and met a few new ones. We had a great meal and then wandered back over to Newbury where we had noticed a Runner's World store that had a green screen photo booth set up. My friends were all trying on a particular hoodie, which was both really soft and on sale. We piled in front of the green screen and had a group photo taken of us in our new hoodies, snuck upstairs to catch a glimpse of Olympian and 2014 Boston winner Meb Keflezighi, who was giving a talk to a full house. I split off from the the group after that and made my way back to the hotel to get off my feet for a while.
Back at the hotel, I watched the end of the Masters and took an epsom salt bath. I'm not usually a bath person, but that tub was pretty terrific. I tried to take a nap, but I couldn't fall asleep, so instead, I just laid around and tried to rehearse my game plan for the next morning. Eventually it was time to head back up to Newbury for an early dinner. And afterwards, my friend Dara, who is a Boston veteran, provided some important correctives to my plan. I hadn't run a race that started at lunch time before, and as it turned out, I didn't have enough food for breakfast and the many hours I'd be waiting around before my start.
Supplied with new fortifications, I made my way back to the hotel and went over the plan again. The weather forecast had changed. Again. And not in our favor. It was still supposed to rain. But now, instead of cold, it was supposed to be warm. Like 60s warm. And humid. Like 90% humid. Both of those are bad. Really bad. Particularly since it had not been warm and humid for the majority of my training cycle, so I was not acclimated. Everything was laid out waiting for me, and I had set approximately 14 different alarms to make sure I didn't oversleep. I got a few texts from family and friends wishing me luck, and with that, I turned my phone to Do Not Disturb, and tried to sleep.
I never sleep well on race nights. This race night was no exception, though it wasn't as bad as some in the past. At 4am, I got up and started eating. I got dressed, got my gear bag and did a final check. I got my shower cap and poncho in case it was raining, and I headed down to the lobby a little after 5am. It was really eerie. Nobody was up. The elevator was empty. The lobby was empty. The sidewalks were empty. It was raining, so I was wearing my plastic outer layer. I found the gear check and dropped off my bag. Then I got turned around trying to find the hotel where I would get the bus to the start. By this point it was super windy and rainy. I was grateful for the poncho and that I was wearing throwaway shoes because it was gross out. I was also glad that I had gotten a seat on a charter bus so I didn't have to worry about what promised to be really muddy conditions at the start.
The bus ride was uneventful save that I found myself feeling very thirsty and wishing that I had brought more than a single bottle of water and my Roctane bottle for the beginning of the race. I frequently get cotton mouth this time of year either from my allergies or from my allergy medication. I had it this morning, and as a result, I couldn't really eat the pretzels I had brought with me. Instead, I focused on the gummy bears and the banana. This would come back to haunt me later.
Finally, it was time for my wave to head to the start. We made our way through security to the Athlete's Village, which was one big mud puddle. I lost the friend I was with on the bus almost immediately in the village. I had made a beeline to the water station. I found another group of Oiselle runners and hung out with them until it was time to head to the line. With just a few minutes left, I decided on one last pit stop and was on my own again.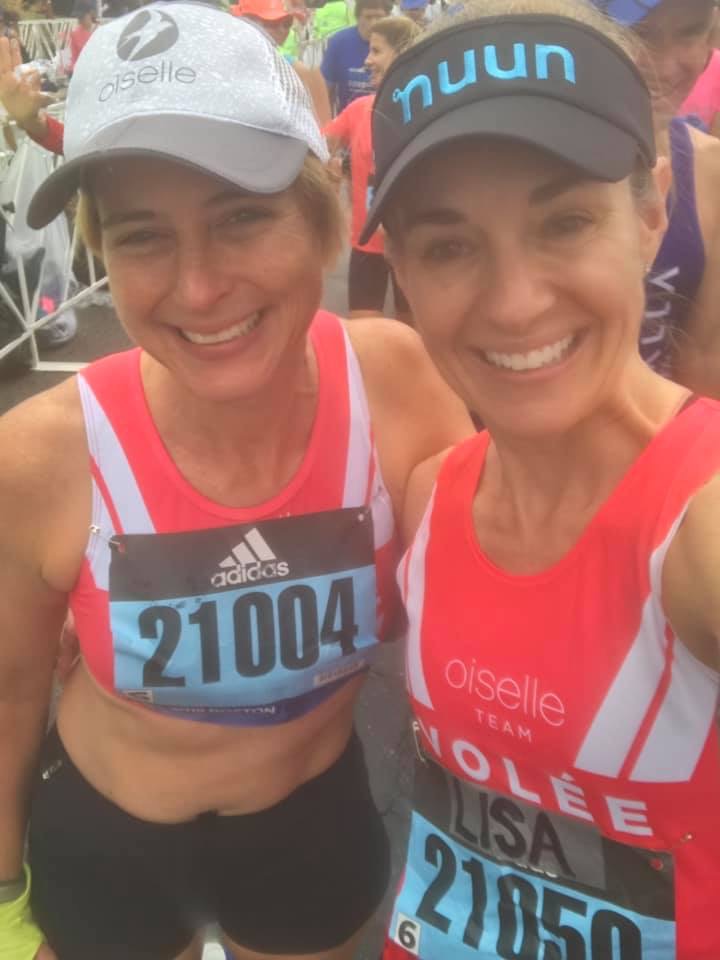 I got to my corral as my wave was walking towards the official start line (if you have noticed that this is the third of fourth time I've said that I was heading to the start and then didn't actually start, that's pretty much what happened all morning long). Another teammate saw my top with our logo and introduced herself. We talked as we walked, and then we were jogging, and I asked my new friend Lisa where the start line was, and she pointed–it was just a few feet ahead, and then we were crossing it. There was no national anthem (or rather, there probably was hours earlier when the race started for the elite women but not for us), no gun or other loud noise. Not even a "GO!" (or a "go."). It was little anticlimactic.
My plan was to start slow, and I did–even with the downhill, and I managed to stay on track for the first several miles. But something was wrong. Around mile 5 or so, I felt kinda nauseous. It was warm and really humid, and I was already sweating up a storm. Sweating a lot is normal for me, but nausea is not. It worried me a little bit, but I tried to ignore it and focus on the crowds of people and their amazing energy. I told myself to relax my shoulders and relax my legs and just be steady. I took a gu and drank my Roctane (I had already drank some of this on the bus). Cruise control through mile 16–that was the plan. But every time I drank water or Gatorade or took a gel, my stomach reminded me that it was unhappy. "Shut up," I told it. "This is Boston. Shut up. You are here. You are doing the thing. Shut up."
By the 9th mile, I needed a distraction. The sun had come out, and the temperature had gone up (though there was a lovely breeze every once in a while). I had my phone in my Koala Clip, and I had my headphones in my pocket, but I hadn't planned to need them. I needed them. So I pulled off to the side, slowed to a walk, and cued up a playlist. When I started running again, I felt better, and I managed to get to the half only a few minutes over my goal. By this point, I knew I would not hit my A goal, but I thought that my B goal was still possible.
But by the time I got to mile 14, I was really struggling. I had texted a couple of my running friends on that first walk break, telling them that I was having a hard time, but I had put the phone back into airplane mode afterwards. I knew that I had to make it to mile 24 to see my teammates. That became my sole focus. Mile 24. Duncan Donuts on the left. Cowbell corner. Just get there. It's 10 more miles. You can run 10 more miles. My legs felt okay. My stomach did not, and it was getting worse.
By mile 16, the course started to get hilly. I was walking and running at this point, and on one of the walk breaks, I came up alongside a woman whom I did not know, and who was not on the Volée, but we made eye contact, and she said, "This sucks." I agreed with her. We shared a few steps, and she said, "let's run a little, want to?" I agreed and we ran together for a minute or two. I don't remember how that ended, whether I walked or she walked, but it doesn't matter–she was a really important bright spot in that afternoon.
Not long after, I saw a Volee singlet ahead of me on the course, also walking, so I decided to try to catch up with whomever she was. It was a woman from Seattle who was also having a really hard day. We commiserated and did a few walk/run cycles before she sent me on ahead.
Mile 24. Just get to mile 24.
I was walking up Heartbreak Hill at mile 18 or so, and one of the spectators yelled, "Don't give up! You can do it! Don't give up! Don't walk! Don't quit!" I wanted to yell back: "This is me not quitting!" Because it was.
I don't remember much of this part of the race except that I was listening to music when I could (and sometimes I couldn't hear it at all because the crowds were so loud), and around mile 20, it started to rain a little though the sun was still out, and at first I thought it was sweat (I was completely soaked at this point). By mile 22, it was raining. Steadily. I put my headphones away and soldiered on.
Mile 24. I have to get to mile 24. Dunkin Donuts. On the left. Mile 24.
And then out of nowhere, I heard my name. I turned to look, and I saw my friends. And I had run right past them without seeing them. I turned around and pretty much collapsed into an ugly-crying heap on my friend Allie. I have no idea how long I was there, but I did look up to see Erin, Erin, Andie, and Lesko. And they offered me water, but I worried that I wouldn't be able to stave off the nausea for much longer, so I declined, and I pulled myself together, sort of, and ran towards the finish with as much strength as I could muster. I was getting cold and the rain wasn't letting up. But I had less than 3 miles left, and I knew I could finish.
I remember catching up with another teammate somewhere around mile 25 and trying to run with her for as long as I could. We talked about Birdcamp, and then I had to walk again. I found myself with a runner who had a lot of energy left and kept engaging with the crowds, getting them to cheer louder, and they did. I was also running near a couple people with Boston PD jerseys on, and there were lots of cheers for them. After what seemed like forever, I finally turned right on Hereford. And it was UP hill. I hadn't registered that before. Thankfully it was short, and then I made the fabled final left onto Boylston Street. The crowds were so loud and I tried really hard to run strong to the finish, which seemed like it was receding with every step.
Finally, I finished.
I felt terrible. I was cold. I was still nauseous. I was exhausted and mentally spent. And I had to keep walking. I got my water, which I tried to drink. Walked more and I got my medal. Walked more and I finally got the space blanket to keep me warm. Walked more and I got a banana. Walked more and I got a bag of what I think might have been snacks (I didn't look at the time and lost it afterwards). Walked more and finally got to the gear check, where I retrieved my bag of dry clothes. I really wanted to change out of my wet gear. But where? I put my bag down on a table to try to get my bearings, but at that point, I started to feel dizzy. Not good because I had another mile and a half to walk back to my hotel.
A volunteer saw me and asked if I was ok. I told her that I felt light-headed. She signaled to another volunteer with a wheelchair, who came over and then proceeded to wheel me to the medical tent. A few minutes later, I was helped out of the chair and asked to sit on a cot while my temperature, blood pressure, and pulse were all measured. Then I vomited. Up came the water and the banana. Once this passed, I was asked to lay down, and my feet were elevated above my heart, and they covered me with a blanket. They asked me a few questions about eating and drinking during the race and asked if they could draw blood to make sure my Potassium level was ok. I was dehydrated, so the blood draws were a challenge. I was stuck in my hand and then my arm. There may have been an IV bag (I have no recollection of this). The needle in my arm stayed in my arm. I stayed on the cot. They asked me if I could try to drink something, and I said that I would try. They brought me a cup of hot broth. My labs came back ok. They gave me a tab of something to stop the vomiting. They asked if I could try to stand. I did, and the dizziness returned. I stood there for a little while and then was asked to try to take a few steps, and after a couple, I knew I was going to throw up again.
At some point in here, I texted a couple of my friends and told them that I was in the medical tent. Both of the women who were in Boston offered to drop what they were doing to help me, and one of them came to get me. I'm especially grateful for this because otherwise, the medics wanted to admit me to the hospital (they didn't want me going back to a hotel room by myself). Instead, I ended up in Dara's hotel room with a hot shower, which was terrific, and a soft bathrobe. And a coke and a ginger ale. I was supposed to drink whatever I could over the next few hours, but if I threw up again, I was supposed to go to the hospital. I really didn't want to go to the hospital.
I stayed with Dara for the next few hours mostly feeling terrible and trying not to throw up again. Finally, around midnight, I decided to rally and head back to my own room. We called down to the front desk for a taxi, and within a few minutes, I was on my way.
I lost the bag of snacks and my Boston space blanket, and I never did get the fabled 26.2 Sam Adams beer (though I did sample it at the expo). But I did get a big bottle of Pedialyte and some saltines, which was about all my system could handle. I lost one of my favorite hand warmers somewhere along the way. But I did manage to stop barfing.
At first, I was embarrassed by my time (4:24:55). I missed my goal by almost 45 minutes. It's a personal worst by almost 10 minutes. I had expected to be able to requalify for next year's Boston with this race. Nope. Not even close.
And yet. I gave it everything I had on the day. Maybe even a little more than I should have given. I hadn't aimed for the medical tent, and I generally disapprove of athletes who push themselves to the point of injury. If I'm honest, one of the big things motivating me to finish the race was the thought of all of the people who knew I was running Boston. People I didn't want to disappoint. People who would judge me for not being tough enough or strong enough or fit enough. What would they think of me if I dropped out of the Boston marathon. What would they think if I quit? Had it been any other race, I probably would have called it at the half. But it was Boston. It took me four tries to qualify for the race, and who knows if I will get another chance?
But I digress. That I ended up in the medical tent tells me that I couldn't have done more on that day. I gave it all I had. I wish that I had more, of course. I know that the time was not a good reflection of my fitness or my running ability. But the marathon doesn't care about those things.
As I performed my After-Action-Report, I know that I was mentally tough and that when it got hard, I didn't quit. I'm proud of myself for staying in the fight. Also to the good, I did dress well for the conditions. I also did well drinking water and Gatorade on the course. In retrospect, I should have had more food and water on the bus in the morning. Taking such an early bus with my start time was probably not a good idea even though it meant a more comfortable wait once we got to Hopkinton. I probably would have been better served with a later departure time and more time in the athlete's village, where I could get water and more to eat. The weather did me no favors, and I should have slowed down even more than I did early on. I felt like I was being conservative, but my watch tells another story after the first mile.
Also, I had way too much going on this semester. It started with back problems that sent me to PT for 6 weeks or so at the beginning of 2019. Between that and my pending promotion, January and February were really stressful. And then there was Vienna, which was great. But a transatlantic trip 3 weeks out from my marathon probably wasn't the best idea. I wouldn't change a thing except, perhaps, for my expectations. I'm a Boston Marathon finisher, and for now, that's enough. In the med tent, I said that I would probably not do another marathon, but who am I kidding? I'm doing another marathon. Not for a while, but I'm not going out on that note.